EIA New Jersey Renewable Electricity Profile
This EIA link is a summary of renewable energy capacity and generation. Profiles are available for all 50 states.
NJ Renewable Energy Project Activity Reports
This New Jersey Clean Energy Program (NJCEP) link contains the most recent summary reports and project listings available for renewable energy technologies by program and by technology. Reports on Incentive Programs include: Renewable Energy Incentive Program (REIP) and Customer On-site Renewable Energy Program (CORE) Status Reports, Solar Renewable Energy Certificate (SREC) Registration Program Status Reports, and Grid Supply and REAP Project Listings. Reports on technology include Solar Installation Reports and Wind, Bio-power, and Fuel Cell Installation Reports.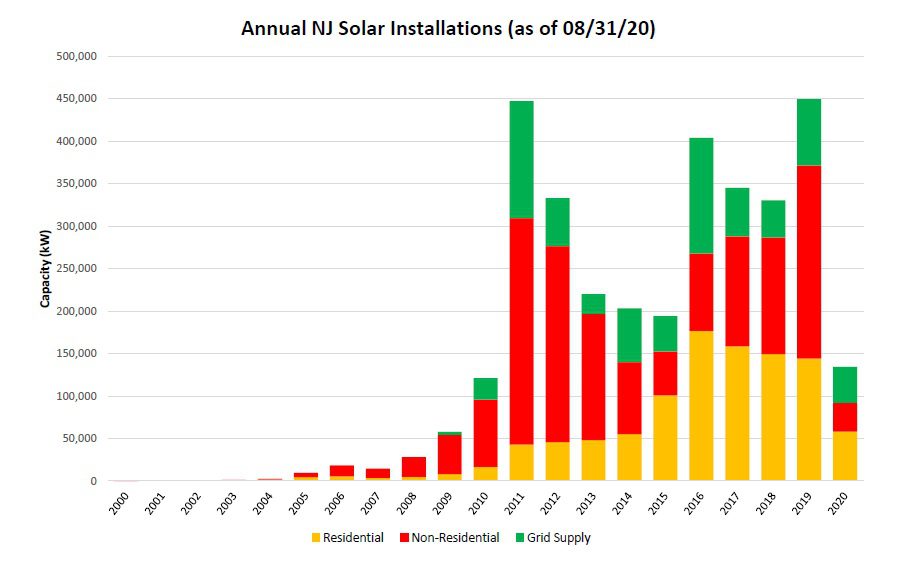 NJCEP SREC Pricing
Cumulative Solar Weighted Average Pricing (CWAP) reports are found here
New Jersey Renewable Portfolio Standards Compliance Reports
Provides a summary of the results from compliance with New Jersey's Renewable Portfolio Standard (RPS) by regulated retail electricity suppliers and providers and other renewable energy market developments from 2009 and 2010 and also includes RPS Compliance History through 2018.
DSIRE Solar Policy and Maps
This Database of State Incentive for Renewables & Efficiency (DSIRE) link provides access to interactive maps on comprehensive information on state, local, utility, and federal incentives and policies that promote solar energy, Energy Efficiency, net metering, and RPS.
NREL Solar Data-The Open PV Project
This National Renewable Energy Laboratory (NREL) link provides real-time status of the Solar Photovoltaic market in the United States. Data available includes Date Installed (completion date or interconnection date), Size/Capacity of the PV Installation (in KW DC), Location (Zip code or street address), and Total Installed Cost (in USD, before incentives).  A search platform and visual maps are also available for State and regional information.
NREL Solar Maps
This NREL link shows various Solar Maps of the U.S. with monthly average and/or annual average daily total solar resource information. Data is available from 1998 to 2005 or 2009. Types of maps include U.S. Solar Resource Maps, PV Solar Radiation (10 km), Concentrating Solar Power Radiation (10 km), PV Solar Radiation (40 km) and Concentrating Solar Power Radiation (40km).
NREL Solar Technology Market Report 2011
This NREL report released in November 2011 focuses on solar market trends through December 31, 2010 and provides an overview of the U.S. solar electricity market, including photovoltaic (PV) and concentrating solar power (CSP) technologies. The report also identifies successes and trends within the market from both global and U.S. perspectives, and offers a general overview of the state of the solar energy market.
Tracking the Sun Report (LBNL)
This LBNL report provides historical summary of the installed cost of grid-connected Photovoltaic systems in the U.S. and includes installed cost trends for utility-sector PV for the first time. The report tracks the installed cost of these systems over time and by location, customer type, system characteristics, and component.
NREL Wind Technology Market Report
This NREL report  provides an overview of the key installation trends in wind power capacity growth and wind power industry trends in the U.S. The report also describes trends in installed wind power project costs, wind turbine transaction prices, project performance, and operations and maintenance expenses. Policy and market factors impacting domestic wind power market are also examined in the report. A more in-depth summary of developments in offshore wind energy is also included in the report.
Offshore Wind Potential Maps This DOE Energy Efficiency & Renewable Energy link provides 90-meter height, high-resolution wind maps and estimates of the total offshore wind potential that would be possible from developing the available offshore areas with mean annual wind speed of 7 m/s. Specific maps for each applicable state are available.
Ocean Wave Energy Resource Potential
This 2011 Electric Power Research Institute (EPRI) Report prepared by Virginia Tech Advanced Research Institute and NREL estimates the naturally available and technically recoverable U.S. Wave Energy resources by regions including West Coast (WA, OR, CA), East Coast (ME thru NC), East Coast (SC thru FL), Gulf of Mexico, Alaska (Pacific Ocean), Alaska (Bering Sea), Hawaii and Puerto Rico. Methodology used for estimation is also explained in the report.
Fuel Cell Technologies Market Report
This report provides an overview of trends in the fuel cell industry and markets, including product shipments, market development, and corporate performance.
New Jersey Biomass Energy Potential (2007)
This report prepared by the New Jersey Agricultural Experiment Station in July 2007 assesses the characteristics and quantity of New Jersey's biomass resources and technologies that are capable of producing bioenergy, in the form of electricity power and transportation fuels. The report also develops the first statewide mapping of waste/biomass resources and bioenergy potential and relevant policy recommendations.
Assessment of Biomass Energy Potential in New Jersey (2015)– An Update to the 2007 Rutgers EcoComplex Biomass Energy Potential Report.
Renewable Energy Cost Database
This Environmental Protection Agency database is a compilation of existing cost data for wind, solar photovoltaic (solar PV), solar thermal (CSP), and geothermal energy technologies, including historical costs and projected costs for each. The database includes data sources and references and also separates information collected from primary and secondary sources.
Transparent Cost Database
This OpenEI database collects program cost and performance estimates for EE/RE technologies in a public forum where they can be viewed and compared to other published estimates. The database includes literature on technology cost and performance estimates (both current and future projections) for vehicles, biofuels, and electricity generation. All data are downloadable for full transparency.
PJM GATS Public Reports
Includes Solar Weighted average prices, retired certificates, and GATS generators.
US DOE Alternative Fueling Station Locations
Allows you to search for biodiesel, compressed natural gas, electric, ethanol, hydrogen, liquified natural gas, and liquified propane fueling stations throughout the US.
Loading alternative fueling station locator...